WHS ALUMNI COOKOUT --2003
page 2
(AOL users: deselect "Use Compressed Graphics" in your Web preferences settings.
Others: if you are using any type of accelerator to speed up your internet browsing, you will need to shut it off to view a clear copy of these pictures.)
Lots of photos here, so the pages may take a long time to load on your screen.
If a picture does not appear, right click it and select "Show Picture" or "View Graphic.")

---
Sue Cardea, Connie Collins & Russell Rice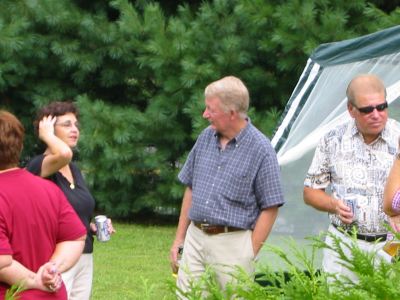 ---
Always patient and ever so dear, husbands David Goad and Buddy French
visit while their spouses, Rhonda Lane and Phylenia Snow are walking down On the Hill memory lane.
---
Tammy Collins Scott with cousin Debbie Fox seen here talking with Tammy's son, Barry Scott.
Kim, Barry's girlfriend is sitting with her back to the camera, AND that's Phylenia Snow French's yummy orange chiffon cake to the left.
Ronnie and I shared (nearly fought over!) a left-over piece of that cake for breakfast the morning after the picnic!

---
Jimmy Dalton, Guy Sutphin, Sandy Bright and Pete Plymale shooting the ....breeze on Ronnie's front porch.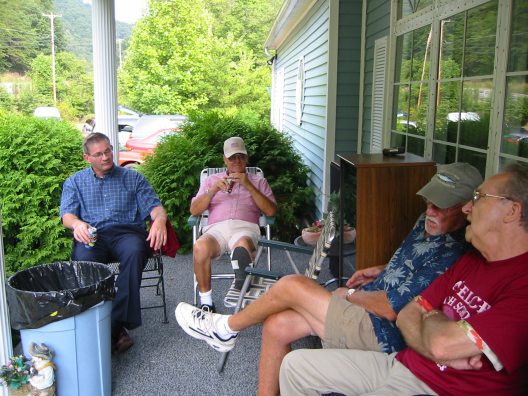 ---
Please contact Donnie Collins Skuja at dskuja02@sprynet.com if you have any questions/comments/additions
for this web page.