WHS ALUMNI COOKOUT --2003
page 3

(AOL users: deselect "Use Compressed Graphics" in your Web preferences settings.
Others: if you are using any type of accelerator to speed up your internet browsing, you will need to shut it off to view a clear copy of these pictures.)
Lots of photos here, so the pages may take a long time to load on your screen.
If a picture does not appear, right click it and select "Show Picture" or "View Graphic.")

---
The sun did eventually show its face. And here are a group of folks lapping up the rays in Ronnie's beautiful front yard:
L-R are Paul & Judy (Christian) Thomas, Betty (Chaos) Rice, Linda (Spencer) & (standing to her left) husband, Guy Sutphin, Pat (Bright) Steele, Elinor (Turner) Bright, and standing behind Elinor are Sue Cardea and Lloyd Asbury.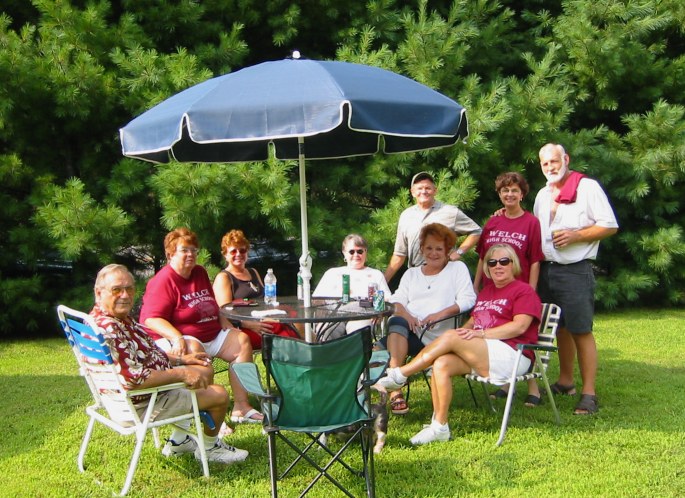 ---
Still sporting that lovely red hair, Ruth Ann Cook Urps discovers some of those beautiful WHS Sensational Sixties t-shirts.
Not many of these t-shirts are left but if you want to see if one is available in your size, contact Ronnie at roncolwv@earthlink.net.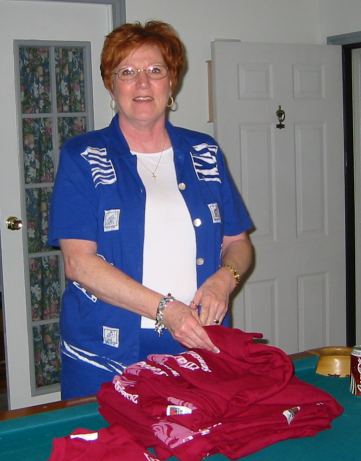 ---
Bing Bang! I saw the whole gang....wearing Sensational Sixties t-shirts.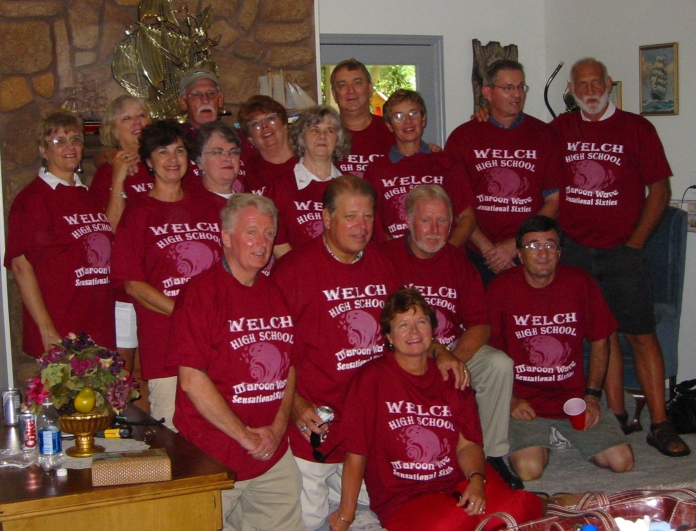 ---
Please contact Donnie Collins Skuja at dskuja02@sprynet.com if you have any questions/comments/additions
for this web page.